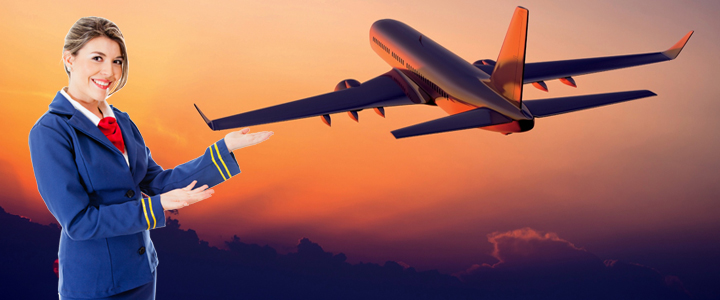 Air Hostess Training Institute
Ambiance Institute of Air Hostess Training is a pioneering air hostess training institute. Known for its quality training initiative, Ambiance Fly takes the training of air hostesses to the next level. Herein, we believe in giving quality learning aptitude to interested individuals through a well-designed, flexible, and job-oriented course. We are an experienced venture in the aviation training industry and make a special effort to provide a highly qualified and talented workforce to serve the airline sector.
A well-facilitated infrastructure
Our air hostess training institute in India is accustomed to high training modules along with interactive classroom sessions to provide the best learning approach for the individuals. Our classrooms are well-equipped with all the necessary elements of teaching to offer a comprehensive learning approach to aspirants. Our highly qualified and experienced trainers will use a consultative teaching approach to prepare the aspirants for the challenging post of an air hostess.
Our trainers follow a unique curriculum and takes on the innovative initiatives of teaching to train the students with all the necessary elements to become a professional. The students are given both theoretical and practical knowledge to keep a pace with the actual requirement of aviation industry and the profile of an air hostess.
Well-crafted training
To suit the growing need to meet the standards posed by the hospitality and aviation industries, we have designed tailor-made courses. The courses are made after thorough research on the actual demands of an air hostess' job profile. We offer a wide variety of training courses to suit your professional needs. Depending on the demand displayed by the aviation and service industries, you can find a plethora of programs to match your career goals.
Through a hands-on training approach, we provide aspirants with hands-on learning experience. We adhere to providing a live learning process to the individuals and preparing them on the basis of actual working standards in the aviation industry. As the best air hostess training institute in Delhi, we are focused on using cutting-throat technology to shape the future of individuals. Our practical training acts as a driving force to help the students apply their learned knowledge to shape their career.
Become a proficient with us
Ambiance Institute of Air Hostess Training is the institute that works on the overall development of the students. We establish strong ties with airlines and the aviation industry in order to provide practical training to aspirants. Our purpose is to ensure bright career prospects for our students. Our experts keep an eye on the growing job prospects in the aviation industry and the hospitality world and formulate the courses as per the growing demand for professionals.
Get placed at better positions
Would you like to explore what's all hidden in the aviation industry in terms of career prospects? Contact our career counselors today and learn about the career prospects of being an air hostess. Our experts work on giving personality development classes to create the best version of you as a professional. You have to present yourself as a confident candidate, and thus, our expert trainers give you regular practice sessions for interview sessions to keep you motivated.
Join Ambiance Institute of Air Hostess Training, the premier air hostess training institute in Dwarka, and shape your bright future by flying high in the sky.